Power PAC (Parky's and Caregivers) Parkinson's Support Group meets on the 2nd Monday of every month, 2:00-3:30 pm at the East Bonner County Library conference room, located at 1407 Cedar Street, Sandpoint.
Individuals affected by Parkinson's, family, caregivers, and friends are encouraged to attend!
If you have questions please call Elizabeth Neuder, Physical Therapist with Performance Therapy Services at (208) 265-3325.
______________________________________________________________________________________
Bonner General Health is now an affiliate of Rock Steady Boxing, an exercise program that enables people with Parkinson's disease and other neurological diseases to fight their disease with a non-contact boxing-style fitness program that improves their quality of life. Classes take place on Tuesday & Thursday at our Ridley Village location. Class size is limited at this time. For more information call 208-263-1441. Click the image below for more information about the program.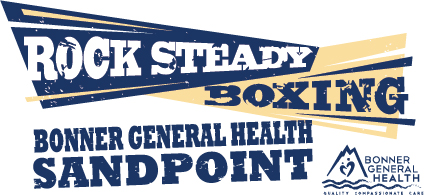 For more information on Parkinson's Disease symptoms, how it is diagnosed, and treatment options go to the Parkinson's Foundation website by clicking the image below.