Patient Billing & Financial
We know healthcare bills can be confusing, so we've designed this information to help you understand our patient billing practices. If you have questions that aren't answered here, please call us at (208) 265-1158 and one of our financial representatives will be glad to help you.
Bonner General Health Patient Financial Services
Physical address: 423 N. Third Avenue, Suite 225 Sandpoint, Idaho 83864
Mailing address: 520 N. Third Avenue, Sandpoint, Idaho 83864
Phone: 208-265-1158
Fax: 208-265-1278
We accept: cash, check, money orders, debit/credit cards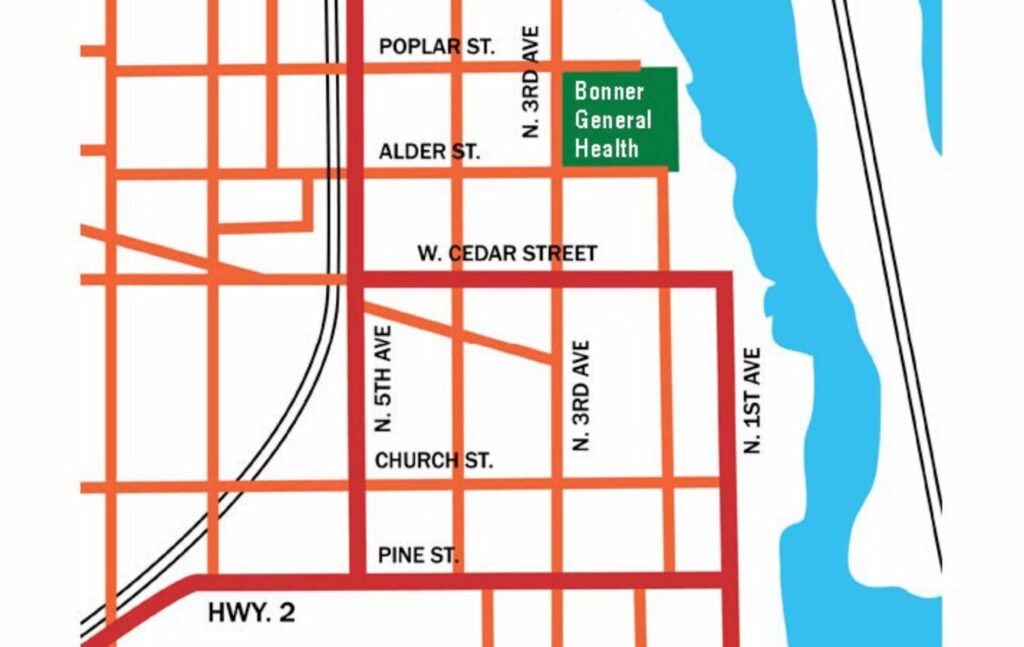 Preauthorization of Services
Some health insurance carriers require patients to preauthorize certain services, or to notify them within a certain period of time after being hospitalized or treated. Please review the insurance benefit information your health insurance carrier or employer has given you and obtain any required preauthorization in writing before being treated or admitted to the hospital.
If you are treated or admitted to the hospital on an emergency basis, call your insurance carrier (or have someone call for you) within 24 hours to notify them.
Paying Your Patient Bill
Paying your patient bill is ultimately your responsibility. If you have a deductible, co-payment or another self-pay amount due, or if you do not have insurance coverage for your patient services, you will be asked to make a payment before you leave the hospital. For your convenience, we accept cash, personal check, debit card or money orders, Visa, MasterCard and Discover Card.
If you would like to pay your patient bill online please click HERE.
If You Have Insurance
If you have current insurance coverage, our billing department will bill your insurance company shortly after your visit. If you have more than one insurance plan, we will bill those carriers as well. After we bill your insurance company, we will send a summary statement to you. If you would like an itemized bill, please contact us and one will be provided.
Your insurance company should pay your bill within 60 days. We may request your help in contacting your insurance company if we do not receive payment from them within that timeframe.
Bills for Physician Services
If your treatment includes the services of the hospital's emergency room physicians, their charges will be included on your patient bill. If you received services from other physicians such as a radiologist, pathologist, anesthesiologist, your personal physician or another physician specialist, you will receive a separate bill from those physicians.
If you receive a bill from a physician and have questions, please call the telephone number listed on that bill.
Financial Assistance
If you anticipate difficulties paying your portion of the bill, our financial advocates can discuss payment alternatives that may be available to you. They can also direct you to organizations that may be able to provide you with financial aid.
We offer assistance to patients who meet certain financial criteria through our BGH Cares program. Information about this program can be given to you during your visit, or click HERE for an application. Click HERE to see our BGH Cares Financial Assistance Policy Summary. Full Financial Assistance Policy
Price Transparency
In accordance with CMS guidelines for hospital pricing transparency, Bonner General Health is required to provide a display of at least 300 of our "shoppable services" that a health care consumer can schedule in advance.  Please click HERE for our price estimator tools and chargemaster.
Good Stewardship of the 340B Program
Please note: additional charges may not be included such as physician fees (non-Bonner General Health employed), and other non-facility charges. Bonner General Health is not able to estimate costs for these additional, external services. Your procedure's actual billed charges will vary based on individual diagnosis, time of stay, complications, prescriptions, etc. Total patient out-of-pocket cost is determined by your individual insurance coverage.
If You Have Questions
If you have questions about your patient bill, please call us at (208) 265-1158. Our office hours are Monday through Friday, 8:00 a.m. to 4:30 p.m.