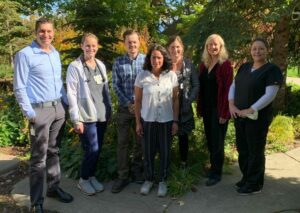 "Never doubt that a small group of thoughtful, committed citizens can change the world; indeed, it's the only thing that ever has." Margaret Mead
By: Sheryl Rickard, CEO – Bonner General Health
The Bonner General Hospital Foundation (BGHF) is made up of 10 generous volunteer Board members. The promise of healthcare philanthropy is the ability to change lives and the power to save lives. The BGHF Board members develop the resources that help keep and expand that promise to the people that trust Bonner General Health (BGH) to care for them. Their focus is two-fold; to raise awareness about the programs and services BGH provides and raise funds to support BGH. Each board member has a story for why they are passionate about spending an incredible amount of time and energy advocating and raising money for Bonner General Health. The Foundation's annual fundraising event is the Heart Ball. The Heart Ball has raised more than $1,000,000 for Bonner General Health over the last 13 years. Those funds purchased much-needed equipment and helped advance hospital programs and services.
The BGHF Board is incredibly grateful to the community for their unwavering support of the Heart Ball. It is proud of the contributions that they've been able to provide to BGH. In 2021, they wanted to do more to support BGH staff and to have a more significant impact on the entire health system. Their goal was to create an internal grant program that would benefit several departments or services throughout the system. Georgia Simmons, VP of the Board, saw what other organizations were able to do with smaller grants and wanted to recreate it. With the help of other Board members and BGH staff, the BGHF Hometown Health Grants program was established. The focus of this program is to award smaller grants that improve patient quality and safety; enhance patient experience and/or staff satisfaction; provide cost savings and/or generate revenue.
The Board earmarked $30,000 for the first-year grants. On September 27, 2021, the Grant Committee met, reviewed the applications, and chose six items to be funded this year. Those items include:
ADOS-2 (Autism Diagnostic Observatory Schedule) is a comprehensive, evidence-based diagnostic tool for identifying autism across the life span.
EKG Machine for the BGH Family Practice Clinic to allow for faster diagnosis and treatment.
Insight Infrared Goggles provide enhanced vestibular diagnostics that are not offered elsewhere in the community.
Automated Urinalysis will decrease the turn-around time on urine testing, allowing the providers to treat patients faster.
Eye Bed which will be used in Surgical Services and will improve patient comfort and staff satisfaction.
PPE (Personal Protective Equipment) Isolation Station increases staff and visitor safety by ensuring appropriate PPE is readily available.
Smart Laser Unity with Single Probe (Cold Laser Treatment) is used to treat pelvic floor dysfunction and other conditions, including wound healing.
The departments receiving these grants are exceedingly grateful to the BGHF Board members. Not only does this Grant program help BGH financially, but it boosts the morale of the staff. They know these community members value the care they provide, their safety, and their job satisfaction. This small group of thoughtful, committed citizens is changing the world by improving the health of our community.
For more information or to make a donation to the Bonner General Health Foundation, visit bonnergeneral.org.
This article was written for publication in Sandpoint Living Local – December 2021.