By Kathy Hubbard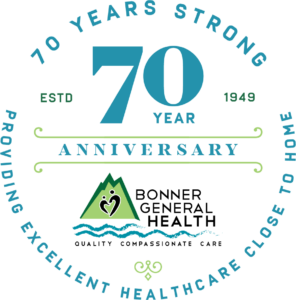 I'm going to a party. Will you join me? In honor of Bonner General Health's 70th anniversary, their staff is throwing a celebration that's not to be missed. Mark your calendars right now for Saturday, July 13 from noon to 3 p.m. at the Health Services Building (423 N. Third Avenue).
Star the Magician will be on hand. Plus there will be lots of music, fun games, gift bags and, of course it wouldn't be a party without, cake and ice cream. Plus, there will be a drawing for one lucky person to win a cruiser bike.
You're right if you're thinking that there's been a hospital in Sandpoint a lot longer than 70 years. As a matter of fact, an article written by the late, great Bob Gunter credits the year 1902 as the year the first one opened in Sandpoint. Back then you could buy what today we'd call insurance for $12 a year that would cover "medicines, medical and surgical treatment and board and lodging at the hospital for twelve months!"
There were a couple of others, the Page Hospital is probably best known. Then, when Farragut Naval Training Center in Bayview was disassembled after World War II buildings were either sold off or demolished. During the tear-down, a band of ambitious local citizens thought it would be a great idea to bring the infirmary building to Sandpoint. So, in a few pieces, it was brought by barge 45 miles up Lake Pend Oreille to be reassembled close to where the hospital sits today. As we know it, BGH was born on July 12, 1949.
Needless to say, that old building didn't fill the community's need for long and a new building was constructed and over the years added to and renovated many times. Major additions were completed in 1972, 1978, 1988, 1998, 2000 and 2015 allowing the hospital to offer more much-needed services.
"In 2013, Bonner General Hospital added the 'doing business as' name of Bonner General Health to better reflect what we do and the multitude of services we provide," CEO Sheryl Rickard said. "Approximately 75 percent of our business is outpatient, much of which is provided outside of the main hospital building. We also wanted our name to reflect that we are committed to improving the health of our community."
When the new Health Services Building was completed in 2015, it opened space in the main building allowing for expansion of services in both facilities putting more strength into the motto, Quality, Compassionate Care.
"Our mission to serve our community by providing excellent healthcare close to home is possible due to our talented staff of 455 individuals, our skilled physicians and our generous donors and volunteers," Rickard said.
"Bonner General Health has 62 physicians on Active Medical Staff. Recently we opened Bonner General Ear, Nose and Throat and hired a full-time Otolaryngologist. We also added a psychologist and Nurse Practitioner in the Bonner General Behavioral Health Clinic, a fourth orthopedic surgeon at Bonner General Orthopedics, and soon we will bring on a full time ophthalmologist. We are proud to partner with Schweitzer Mountain Resort to operate a First Aid Station, staffed with Registered Nurses during the ski season," Rickard explained.
"We continue to grow and improve our technology. Bonner General Health provides a multitude of diagnostic imaging services including MRI, 3-D Mammography, CT, Nuclear Medicine, Echocardiogram, Fluoroscopy, Bone Mineral Density Tests (DEXA), Ultrasound and X-ray.
"The services provided through our Performance Therapy Services rehabilitation clinics include but are not limited to aquatic therapy, cancer rehabilitation, physical therapy, speech therapy, occupational therapy, hand therapy, and Parkinson's LVST Big and Loud therapy," she said.
It's a no-brainer that having these excellent services so close to home is a big advantage, especially living in a rural community. BGH's patient satisfaction reports reflect the positive and grateful community we live in. The surveys are full of words like "they went above and beyond," and "the staff was so friendly and took great care of me!"
So, don't forget the party starts at noon, ends at 3 p.m. It'll be held at what we'll always call the "new" building on the corner of Cedar and Third and the refreshments and fun will await you. Hope to see you there!
Kathy Hubbard is a member of Bonner General Health Foundation Advisory Council. She can be reached at kathyleehubbard@yahoo.com.
Click Here for More Information About Bonner General Health's 70th Anniversary!