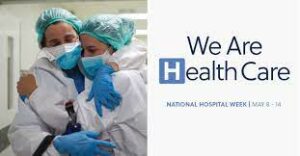 By Kathy Hubbard
Many years ago, when I worked full-time for a neighboring city's newspaper, I went to a conference with staff from the New York Times, the Washington Post, and other like-sized publications. I was overwhelmed to be in such rare company until the general manager of the Post said to me, "All newspapers have the same challenges. It's just the number of people involved that changes."
I was thinking about that recently when I went to see a patient at Weill Cornel/New York Presbyterian Hospital in Manhattan. As I stood looking up at this one-whole-city-block and around 27-story building, I realized that although they may have more specialty services than Bonner General Health, they probably face the same challenges; they're just multiplied exponentially.
Their website says they employ between 5,000 and 10,000 people in this 862-bed hospital. Our BGH has 25 beds, not including beds in the emergency department or maternity ward. BGH is one of the largest employers in Bonner County, with 475 employees, of which 290 are full-time.
Of all employees, 164 are clinical, and 311 are non-clinical. You know, all hospitals are made up of more support staff than medical care providers, right? These people are of utmost importance to the hospital's operation and care of its patients, including check-in/check-out, housekeeping, administration, IT support, food preparation, building maintenance, and much more.
I'm telling you all of this in honor of Hospital Week, which started on Sunday and continues through Saturday, May 14. It's the once-a-year opportunity to showcase how hospitals are integral to our lives. Take a look at these statistics:
In 2021, 281 babies were born at BGH. All of them are perfectly adorable; just ask their grandmothers! There were 162,802 outpatient visits including visits to clinics; 10,695 emergency department visits; 2,458 surgical procedures and 1,584 inpatient admissions. There were 273 time-sensitive emergencies. These include heart attacks, stroke, and trauma activations.
As a Critical Access Hospital, patients are often stabilized before being transported to a larger Acute Care Hospital. Therefore, in order to correctly and quickly ascertain what's happening to the patient, time-sensitive diagnostic imaging is critical.
Marketing Specialist Kristin Carlson said significant improvements to these imaging services are currently in the works.
"Construction has begun in the Health Services Building, where all ultrasound and mammography services will be located," she said. "Once this project is complete, we will begin modifications to install a ceiling-mounted x-ray machine and a second CT scanner, specific to time-sensitive imaging needs. Time-sensitive imaging ensures Bonner General can deliver timely, effective, and safe care to our growing community."
She said that the work should be completed by the end of the year. This is a big deal and another tool in the toolkit that provides compassionate, quality healthcare in Bonner County.
Carlson also asked me to tell you about the Community Health Needs Assessment (CHNA) survey. The CHNA is conducted every three years to ascertain the strengths and weaknesses in our County's health. With input from the public, local businesses, and healthcare providers, needs are identified and prioritized, and programs are implemented.
If you would like to participate in this assessment, it's just a simple survey that you can find at https://www.surveymonkey.com/r/BGHCHNA22 or by visiting bonnergeneral.org. I just took it, and it took less than five minutes, so please take a moment between now and August 15 to give us your input.
"The assessment serves as a foundation to respond efficiently to population health needs," Carlson said. "As a not-for-profit hospital, we address socioeconomic issues in our community, reduce costs due to preventable and chronic conditions, and support the workforce needs. A community health needs assessment helps our organization monitor and identify services and health barriers within Bonner County."
I have to tell you that as I was leaving Weill Cornel, I got lost in the maze of that building. I realized that there was no art on the wall, so no one could tell me to go to the Festival posters and turn right. But a helpful EMT came to the rescue. Healthcare workers are a very nice lot, you know. So let's be grateful for all of them.
Kathy Hubbard is a member of the Bonner General Health Foundation Advisory Council. She can be reached at kathyleehubbard@yahoo.com. This article was written for and published in the Bonner County Daily Bee on May 11, 2022.