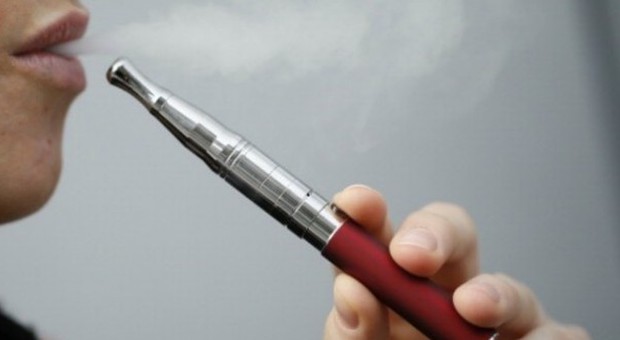 By Kathy Hubbard
A new report came out in March and was presented to the American College of Cardiology's annual scientific session by Mohinder Vindhyal, MD an assistant professor at the University of Kansas School of Medicine Wichita. He reported that new research indicates that adults who use e-cigarettes are significantly more likely to have a heart attack, coronary artery disease, and depression when compared to people who don't use them or any tobacco products.
Does that mean that vaping isn't a better alternative to smoking cigarettes? Well, not exactly. But using neither is the best way to go and because today is Kick Butts Day, I'll tell you to toss them all in the garbage.
"This study found that compared with nonusers, e-cigarette users were 56 percent more likely to have a heart attack and 30 percent more likely to suffer a stroke. Coronary artery disease and circulatory problems, including blood clots, were also much higher among those who vape – 10 percent and 44 percent higher, respectively. This group was also twice as likely to suffer from depression, anxiety, and other emotional problems," ACC reported.
To be fair, let's compare those statistics to the data for reported tobacco smokers over nonsmokers. "Cigarette smokers had strikingly higher odds of having a heart attack, coronary artery disease and stroke compared with nonsmokers – a 165, 94 and 78 percent increase respectively," ACC said. Smokers were also much more likely to have high blood pressure, diabetes, circulatory problems, depression and/or anxiety.
This study was huge. It included 96,467 respondents from the National Health Interview Survey, a Centers for Disease Control and Prevention-fielded survey of Americans, from 2014, 2016 and 2017 (the 2015 survey didn't include questions about e-cigarettes).
"In their analyses, researchers looked at the rates of high blood pressure, heart attack, stroke, coronary artery disease, diabetes and depression/anxiety among those who reported using e-cigarettes (either some days or daily) and nonusers. Those who reported using e-cigarettes were younger than nonusers (33 year of age on average vs. 40.4 years old)," ACC said.
"Until now, little has been known about cardiovascular events relative to e-cigarette use. These data are a real wake-up call and should prompt more action and awareness about the dangers of e-cigarettes," Dr. Vindhyal said.
"When the risk of heart attack increases by as much as 55 percent among e-cigarettes users compared to nonsmokers, I wouldn't want any of my patients nor my family members to vape. When we dug deeper, we found that regardless of how frequently someone uses e-cigarettes, daily or just on some days, they are still more likely to have a heart attack or coronary artery disease.
"Cigarette smoking carries a much higher probability of heart attack and stroke than e-cigarettes, but that doesn't mean that vaping is safe," Vindhyal said, adding that some e-cigarettes contain nicotine and release very similar toxic compounds to tobacco smoking. Nicotine can quicken heart rate and raise blood pressure.
Techniques for quitting both traditional cigarettes and e-cigarettes are similar. First remember why you want to quit and, just to make it a little easier, write down those reasons. The Center on Addiction's Azure Thompson, DrPH (doctor of public health) says, "Knowing and remembering why will help you succeed in quitting."
She also says to try to understand that it will take commitment and effort to quit. You are addicted to nicotine and nicotine is more addictive than cocaine. Withdrawals include irritability, headaches, insomnia, craving nicotine, restlessness, slower heart rate, increased appetite and weight gain and having trouble thinking clearly and concentrating.
Thompson suggests learning about cessation products that can help. Talk to your primary care provider to see if nicotine replacement products can help you. And, while you're there ask about resources such as smoking cessation classes.
Simply tell yourself that today's the day. You're going to kick the butt of your nicotine habit once and for all. Trust me, you'll breathe better for it.
Kathy Hubbard is a member of Bonner General Health Foundation Advisory Council. She can be reached at kathyleehubbard@yahoo.com.

Click Here for More Information About Quitting Cigarettes, E-Cigarettes and Vape Pens