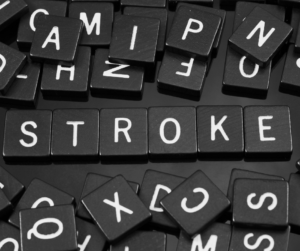 Q&A with Bonner General Health Stroke Coordinator Alli Emch, RN, CEN
Kristin Carlson, Marketing Specialist, Bonner General Health
It is estimated that every 40 seconds, someone in the U.S. has a stroke. A stroke occurs when the brain's blood supply is interrupted or reduced, preventing brain tissue from getting oxygen and nutrients. May is recognized as American Stroke Month, spreading knowledge and education to one of the leading causes of death in our country. I spoke with our Stroke Coordinator Alli Emch about the signs, risk factors, prevention, treatment, and what to do if you think you are having a stroke.
What are the signs and symptoms of a stroke?
There are different types of stroke; ischemic, which is a loss of blood supply to the brain, related to a blood clot; hemorrhagic, which is a loss of blood supply, related to bleed.
The signs of a stroke include SUDDEN onset of:
Numbness or weakness in the face, arms, or legs, particularly on one side of the body.
Confusion (either unable to understand or not making sense).
Difficulty with speech, slurred, or inability to find correct words.
Difficulty walking, loss of balance, or coordination.
Severe headache that does not have an obvious or known cause.
Vision changes blurred or loss of vision in one or both eyes.
Additional signs include SUDDEN onset of continuous vertigo and ANY of the following;
65 years of age or older
Younger than 65 with risk factors (hypertension, diabetes, elevated cholesterol)
Neck pain un the setting of recent manipulation (chiropractor) or injury (motor vehicle accident)
*Please note symptom onset is SUDDEN and not persons normal behavior
Who is most at risk?
There are risk factors we can change (modifiable) and those we cannot (non-modifiable). Those most at risk have high blood pressure, high cholesterol, elevated blood sugars, smoke, excessive alcohol use, sedentary lifestyle, and non-compliance with medication. Some factors we cannot control are our genetics, race, ethnicity, and gender.
Tell me about the Telestroke program at BGH?
The telestroke program at BGH utilizes telemedicine to provide real-time consults with stroke neurologists within the Providence network. These physicians are experts in the field of stroke care. They are incredibly helpful in determining those who may qualify for clot-busting medication or surgical intervention to remove a clot.
How does this service provide support to a rural hospital?
The Emergency Department physicians and nurses are highly trained in recognizing and treating stroke; the telestroke service is an adjunct to treatment and provides an additional layer of expertise. Additionally, the Providence Network partnership helps coordinate care to those patients requiring close monitoring and follow-up care.
Prevention: How do I reduce my risk of having a stroke?
Scheduling an appointment and establishing care with a primary care provider can help determine if someone is at risk for stroke.
Interventions to reduce modifiable risk factors such as blood pressure control, improved diet, increased physical activity, and smoking cessation are imperative to reducing death incidence related to stroke.
Additionally, raising awareness of stroke signs and symptoms and the importance of seeking rapid medical treatment can also reduce disability related to stroke.
Recovery: What is the recovery process for someone who has had a stroke?
The recovery process from stroke is different for everyone, and each stroke, depending on what part of the brain was affected and how long the brain was without blood supply. The term "time is brain" refers to the fact that 1.9 billion brain cells are lost for each minute they are without blood supply.
Does BGH offer services to aid in recovery from a stroke?
Yes, BGH has robust Physical Therapy (P.T.) Occupational Therapy (O.T.) and Speech Therapy (S.T.) programs. Services are provided in inpatient and outpatient settings. Our therapists are well trained to care for those who have suffered a stroke with the goal of recovery.
If you or someone you know is having a stroke, or you suspect a stroke, seek medical attention immediately, call 911, or come directly to the Emergency Department. Don't delay treatment; even if symptoms resolve, you can still be provided with education to help modify risk factors and understand signs and symptoms.
This article was written for publication in Sandpoint Living Local Magazine – May 2021.