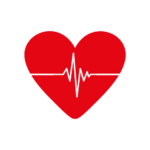 Bonner General Health is participating in the American Heart Association's "Little Hats, Big Hearts" campaign in connection with The Children's Heart Foundation to celebrate Heart Month and to inspire moms to take their family's heart health to heart. Together we are working to raise awareness about heart disease and congenital heart defects.
Every baby born at Bonner General Health in February will receive a red knit hat donated by local area knitters, as a way to honor babies, moms, and to empower moms to live heart healthy lives and help their children do the same.
For information on the cardiac screenings and services provided at Bonner General Health click HERE.
For more information on heart health go to the American Heart Association's website at Heart.org.