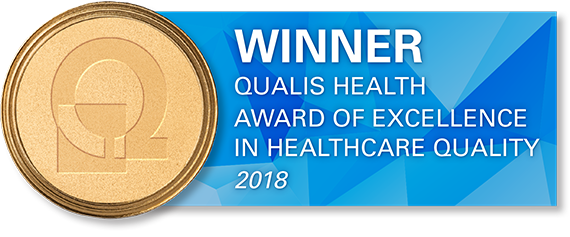 On April 19th, 2018 Bonner General Health was presented the 2018 Qualis Award of Excellence in Healthcare Quality award for Antibiotic Stewardship: Creating a Program in a Critical Access Facility, submitted by Tracy Autler, Director of Quality and Risk Management.
Since 2002, Qualis Health has presented the annual Awards of Excellence in Healthcare Quality to outstanding organizations in Washington and Idaho. Winners have demonstrated leadership and innovation in improving healthcare practices, reflecting the very best in healthcare quality improvement. The awards, now in their 16th year, recognize those who demonstrate outcomes relevant to the three broad aims of the National Quality
Strategy:
• Better healthcare (for individuals)
• Better health (for populations)
• Reduced costs through improvement
Winners of the 2018 Qualis Health Awards of Excellence in Healthcare Quality are selected by a panel of expert Washington stakeholders and patients. Awards are presented at the annual Idaho Patient Safety Conference on April 19th, 2018.
Qualis Health is one of the nation's leading population health management organizations, and a leader in improving care delivery and patient outcomes, working with clients throughout the public and private sectors to advance the quality, efficiency and value of healthcare for millions of Americans every day. In Idaho, Qualis Health serves as the Quality Innovation Network – Quality Improvement Organization (QIO) and the Quality Payment Program – Small and Underserved/Rural Support (QPP-SURS) contractor for the Centers for Medicare & Medicaid Services. For more information, visit QualisHealth.org.
Antibiotic Stewardship means that prescribers collaborate with each other and with their patients to prevent misuse and overuse of antibiotics. Overuse, misuse and inappropriate use of antimicrobial therapy can lead to significant consequences in a critical access facility, including hospital-acquired infections, increased morbidity and mortality, antimicrobial resistance and increased hospitalizations. Additionally, patients often lack understanding of the consequences that can arise as a result of inappropriate antibiotic use.
To create greater awareness and spread best practices, Bonner General Health created an antibiotic stewardship program focused on prescribing practices, drug-bug matching, screening and prescriber and patient education. The team focused initial efforts on two commonly prescribed medications with potential for increased consequences, piperacillin/tazobactam, and vancomycin. For each patient and medication order, staff reviewed the appropriateness of the drug, dose, and duration. Protocols were also created in which specifically trained pharmacists were able to substitute, discontinue or alter therapy as appropriate to the patient.
After 18 months, the use of piperacillin/tazobactam had decreased by 50 percent, and vancomycin by 25 percent. The team anticipates sustained success and improvement as the program continues and broadens.
Click HERE for more information on Bonner General Health's Antibiotic Stewardship program.

Bonner General Health 2017 Qualis Award of Excellence in Healthcare Quality – Critical Access Hospital for "Code Stork" emergency cesarean section protocol.
Bonner General Health 2016 Qualis Award of Excellence in Healthcare Quality – Critical Access Hospital – Telestroke Program.