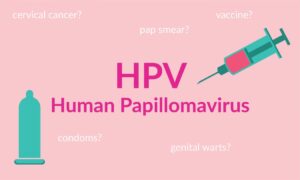 By Kathy Hubbard
I know that vaccinations of any sort are a hot-potato subject. I also know there are a lot of parents who are reluctant to have their children vaccinated against the human papillomavirus (HPV), which causes genital warts and several types of cancer, including cervical cancer. I respect your opinions. But, I'd like to tell you about a couple of studies, so I hope you'll keep reading.
The first study was done in Sweden in 2020 and consisted of nearly 1.7 million women. The simple conclusion of the study was that the HPV vaccine dramatically reduces the number of women who will develop cervical cancer.
And, talk about drama, the article published by the National Cancer Institute in October of that year stated that "The vaccine's efficacy was particularly pronounced among girls vaccinated before age 17, among whom there was a nearly 90 percent reduction in cervical cancer incidence during the 11-year study period (2006 through 2017) compared with the incidence in women who had not been vaccinated."
The study's leader, Jiayao Lei, Ph.D., of the Karolinska Institute in Stockholm, said, "This is a vaccine against cancer, which can save lives." At the University of North Carolina, Noel Brewer, Ph.D., who studies cancer prevention and HPV vaccines, called the study results "incredibly powerful."
Then, a study this past year in England had similar results. This research was reported in an article published on WebMD on November 5, 2021. It said, "Young women who received the HPV vaccine were 87 percent less likely to get cervical cancer than those who were unvaccinated."
Maurice Markman, MD, is the president of America's Medicine and Science Cancer Treatment Centers. He noted that the English study was similar to the Swedish study of the vaccine.
"You can put any superlatives you want in here, but these are stunningly positive results," Markman said. "I can tell you this is one of the most devastating diseases to women, and the ability to eliminate this cancer with something as simple as a vaccine is the goal of cancer therapy, and it's been remarkably successful."
On the Centers for Disease Control and Prevention website, there are statistics for the United States. In the ten years after the vaccine was recommended in 2006, HPV infections decreased by 86 percent in female teens aged 14 to 19 years and 71 percent in women in their early 20s. It also said that the incidents of genital warts and cervical precancers decreased as well.
"HPV vaccination prevents new HPV infections but does not treat existing HPV infections or diseases. The HPV vaccine works best when given before any exposure to HPV. Most sexually active adults have already been exposed to HPV. However, not necessarily all of the HPV types targeted by vaccination," the CDC said.
The CDC recommends routine vaccination for children aged eleven or twelve, although it can be started as young as nine. The Advisory Committee on Immunization Practices recommends vaccination for everyone through the age of twenty-six if they weren't vaccinated when they were younger.
Adults between the ages of twenty-seven through forty-five should discuss with their primary care provider to see if they would benefit from HPV vaccinations if they didn't receive them when they were younger.
"At any age, having a new sex partner is a risk factor for getting a new HPV infection. However, people who are in a long-term, mutually monogamous relationship are not likely to get a new HPV infection," the CDC said.
If you're a parent and feel reluctant to have your child vaccinated, a discussion with your child's pediatrician would be beneficial. The vaccine has proven to be effective and extremely safe. Side effects are typically mild. The most common complaint is pain, redness, or swelling at the injection site.
Cancer.net posted that early estimates showed that 14,480 women in the U.S. would be diagnosed with cervical cancer in 2021. 4,290 would die from the disease. Those numbers could drop significantly if everyone eligible gets vaccinated.
Wouldn't it be great if we could call cervical cancer eradicated? I'm just asking you to talk to the medicos and follow their advice.
Kathy Hubbard is a member of the Bonner General Health Foundation Advisory Council. She can be reached at kathyleehubbard@yahoo.com. Article published in the Bonner County Daily Bee on January 5, 2022.